What kind of display screen will appear after "Retina"? It may be a bendable display or a 3D display.
What innovations will appear after the display? Fingerprint recognition? 3D object recognition technology?
When Steve Jobs launched the iPhone 4 in 2010, one of the phone's main selling points was that it was equipped with a "retina" display. Under normal line of sight, the human eye generally cannot recognize a single pixel. Pixel density is usually measured by "pixels per inch (ppi)". iPhone 4 and its upgraded models are equipped with a 326ppi display. The new "retina" iPad (first released in early 2012) has a pixel density of only 264ppi on the display, but the viewing distance of these displays is about 15 inches (about 38 cm), which is usually 10 inches (about 25) Cm) with a longer viewing distance.
Display test
However, Apple is expected to significantly improve its display next year. According to DisplaySearch, a research company under the NPD Group, "In 2014, Apple will once again rely on the display to innovate."
This is a bold prediction. David Hsieh, vice president of DisplaySearch's Greater China region, wrote: "It can be seen from Apple's products that it firmly believes that the display should have a higher resolution, a wider color gamut and a wider viewing angle. . Apple has created many 'firsts': the first to use a display with a pixel density of more than 300 ppi on a smartphone; the first to use a QXGA resolution display on a tablet; the first in product design Use a protective glass cover; of course, it is also the first to integrate a touch sensor (in-cell touch technology) in the display. "
In 2012, the latter (embedded touch technology) was used in the iPhone 5. But what next? David pointed out that the current competitive situation means that "Apple can no longer provide unique and durable features that are different from similar products in its displays. Mobile device brands have begun to adopt the most advanced displays, which have larger Size, higher resolution, wider color gamut and viewing angle, and lower energy consumption. They are provided by many panel manufacturers that are not constrained by Apple. "In fact, the iPhone 5S and 5C do not No innovation. "Apple was the initiator of the advanced display, but it is now just a follower." David pointed out.
However, he said that according to sources from its supply chain, Apple plans to redesign its display next year. As for the iPad, its size is estimated to increase to 12.9 inches, and the resolution is expected to increase to 2732x2048. It will still maintain the current 4: 3 ratio of the iPad, but it will increase its area by a third. It is also expected to launch larger phones: 4.7-inch 1280x720 resolution mobile phone (pixel density is 312ppi) and 5.7-inch 1920x1080 resolution mobile phone (pixel density is 386ppi); the latter has been called a "tablet phone mashup product" , Because its size has exceeded 5 inches.
Flexible AMOLED display?
As David said, a display with a higher pixel density is not enough. The pixels on the display are controlled by the CPU and GPU. Improving the performance of the CPU and GPU helps to improve the operating capability of the device, thereby reducing the load of other processes (such as processing touch events or performing game operations).
David pointed out, "Switching to a large-size display or a high-resolution display is not a simple matter. The GPU and operating system must match the display. If a device has a high-resolution display, But there is no GPU and operating system with corresponding performance, so this is like a soldier driving a tank with fierce fire, but desperately using a big knife. "
He believes that "What makes Apple better than any other company is that it integrates hardware and software and unifies the user interface and content ecosystem."
The message from Apple is complicated. Its mobile phone does not have a large display, it does not use an AMOLED display, and it has recently begun to focus on 64-bit chips and fingerprint readers, all of which seem to indicate that it believes that the "retina" technology has reached the top for the display.
David said that the real change may come from a completely different type of device: a wearable computer. He believes that Apple may use a flexible AMOLED display. This is a new development path, but it is just a fork that Apple may choose.
3D display?
On Twitter, Stephen Collopy made an interesting point. "3D display, this is the only logical development direction." He said. The initial reaction was that this view was ridiculous: the practice of configuring a 3D display on a smartphone has been tried (LG and other mobile phone manufacturers), but it has been denied by the market.
However, Carlopi went on to mention an article on Vulture.com titled "Hollywood Blockbuster Issue", which also contains many interesting points:
"China has now become the second largest market. In 2020, it will become the world's largest market. This is why Hollywood movies are now keen to shoot sequels. Because such movies will make international audiences feel very kind. I know that 80% of the profits of Hollywood movies come from the international market. Chinese audiences will not watch any movies except 3D, which means that all our movies must be filmed in 3D, even if domestic audiences do not accept it. "
Considering that Apple is so enthusiastic about its Chinese business, it is so enthusiastic about advocating to watch movies on iPad and there are so many movies launched in 3D version, you can naturally come to the conclusion that if Apple launches a 3D movie capable of playing Display, then it will gain huge commercial advantages.
Is this possible? It's hard to tell. 3D TVs have not been very popular. In the United States and Europe, viewers do not like to watch 3D movies. However, if China can push up the demand for 3D movies, and Apple also sees this demand, then 3D display may be Apple's next development direction.
3D object recognition technology
Compared to fingerprint recognition, it seems that 3D object recognition sounds cooler. Recently, on the Internet, a patent picture of the 3D object recognition technology that Amazon will be equipped with its own smartphone has been exposed. Allegedly, this development code-named "Smith" 3D object recognition technology can scan the real-world photos taken by users to identify the products and match them with relevant information on the Amazon website to facilitate users to buy online .
Although it is not known when this technology will be truly popularized on smartphones, it is expected that it will bring a lot of changes to the traditional online shopping model. Imagine that when you see a pair of sneakers in a specialty store, but the price is a bit expensive, then you can identify the pair of sneakers through 3D object recognition technology and you can easily check the lower prices on the Internet. In addition to this, often we do n't know the exact name of the product we want to buy. At this time, this technology can simplify the cumbersome text search process to a certain extent, making purchase more convenient and fast.
However, from the perspective of the patent picture, the 3D object recognition technology seems to be a little complicated. In order to ensure the accuracy of the recognition, the user may need to take pictures of the product, which may cause some trouble for the user in actual use. But this is just a patent picture, it is up to the user to decide whether 3D object recognition technology is tasteless or revolutionary.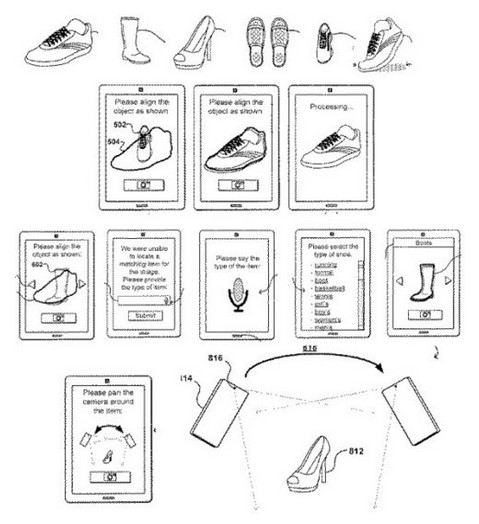 A new experience of true wireless
Automatic seconds connection, can be used with headphones

Professional sound engineering technology
Case Cube/acoustic clear sound reproduction
customized stainless steel acoustic structure, high quality grahene hoop system and obvious environmental noise attenuation will open up a pleasant journmey journey for you to enjoy the sound.
Built-in microphone/ Effective noise reduction/ Clear call/ Easy to carry

Sports can't be abandoned more freely
Close ergonomic design, close to the ear, even wearing for a long time can also enjoy comfortable experience.
And can form a triangular stable support with the ear, even if running and riding, vigorous fitness is still close to the ears, wildly shake off.

Bluetooth Earbuds,True Wireless Earbuds,Wireless In Ear Gaming Headset,Wireless Bluetooth Headphones
Guangzhou HangDeng Tech Co. Ltd , https://www.hangdengtech.com