This week (6 / 17-6 / 23) the e-commerce war will be the most lively thing on the domestic Internet, and the price war, the war of words, the war of public relations will not be less. After the Apple WWDC, Facebook, Samsung, Huawei and other domestic and foreign giants will also launch their own new products one after another, making this month an uncompromising "new product release month."
U.S. Prism project leak door incident continues to ferment
The news that the US government used the Internet to monitor and track people last week surprised the outside world, and the leaker Snowden has also gone to Hong Kong. For American technology companies, how to deal with the monitoring and review conducted by the government in the name of national security is a tricky business. On the one hand, Google, Yahoo, Microsoft, and Facebook involved in the case denied that they actively provided user data to the government. On the other hand, as the investigation deepened, more companies and insiders were continuously excavated. This event is destined to continue to evolve this week, and the media and public discussions on whether to support this practice will continue.
E-commerce promotion battle begins
Just as Double 11 is not just a festival of Ali e-commerce, 618 is no longer a celebration of JD.com because many e-commerce companies have joined the war. Last year's 618 had less firepower than 815 in the second half of the year, but the sales pressure of e-commerce merchants who had been deserted for several months in the first half of this year urgently needed to be released in 618.
Although e-commerce companies, including JD.com, have repeatedly emphasized that they should rest and recuperate this year, and no longer regard low prices as the only or even the most important weapon, but they want to attract as much traffic and obtain more sales as possible at 618. It is the fastest sword. Not only JD.com, Yi Xun, Suning.com, Amazon China, but also OPPO and other manufacturers want to take the ride.
Of course, for users, it is still more concerned about the real price reduction or the fake price reduction, and at the same time, if the traffic surges, can they get the same experience as usual.
Facebook or push news reader
June is destined to be the month for major companies' conferences. According to foreign media reports, Facebook may launch a news reader at the new product conference on June 20.
This background is very interesting, because Google will close the RSS subscription service Google Reader on July 1. Last week, there was news that the word "RSS feeds" appeared in the Facebook code, plus Facebook launched the "#" topic tag function, I believe Facebook released a news reader.
Of course, the Google Reader model has been defaulted by Google as a failure, but information reading is still an important function for netizens, and Facebook will definitely not follow this path.
Samsung will launch a series of new products
Samsung's performance in the era of smartphones reminds people of Nokia in the era of feature phones. "Technology based on shell replacement" was a ridicule of Nokia at the time, and now Samsung, which is now the world's largest smartphone manufacturer, has nearly 20 models launched in a year while the Galaxy series was a big success.
At the London conference on June 20, Samsung will still squeeze the brand value of Galaxy and try to continuously expand the territory of Galaxy products. Samsung co-CEO JK Shin has confirmed that the company will launch the mirrorless smart camera Galaxy Camera 2 at a press conference in London on June 20. Mobile phone tablet, tablet phone, mobile phone camera, smart camera ... I believe that as long as it can be equipped with Android system, Samsung will try it again in the future.
Domestic Huawei Shanda will also release new products
As analyzed by Tencent Technology 's in-depth article last week, Huawei is working hard to make up for shortcomings in channels and brands over the past two years. On June 18, Huawei will hold its most important product launch event in London this year. It is expected to release the flagship model Ascend P6. At present, the configuration parameters and selling prices concerned by the outside world have not been disclosed.
Today, Shell Electronics, a subsidiary of Shanda, will hold a press conference. According to previous reports, it is likely to release two smartphones, a smart watch, and a "mysterious product." Google is still testing its own smart glasses, and dare not rush to market on a large scale. Where is the confidence of Nutshell Electronics?
Glass-fiber covered polyester film covered rectangular copper (aluminium) wire .includings Glass-fiber Polyimide Film Covered Flat Copper Wire, Glass-fiber Polyimide Film Covered Flat Aluminium Wire, Glass-fiber Polyester Film Covered flat Copper Wire , Glass-fiber Polyester Film Covered flat Aluminium Wire, Glass-fiber Covered flat Copper wire, Glass-fiber Covered flat Aluminium wire.
Packaging of Products
30/50/150 kg wooden spool
Application: medium and large electrical motor and transformer windings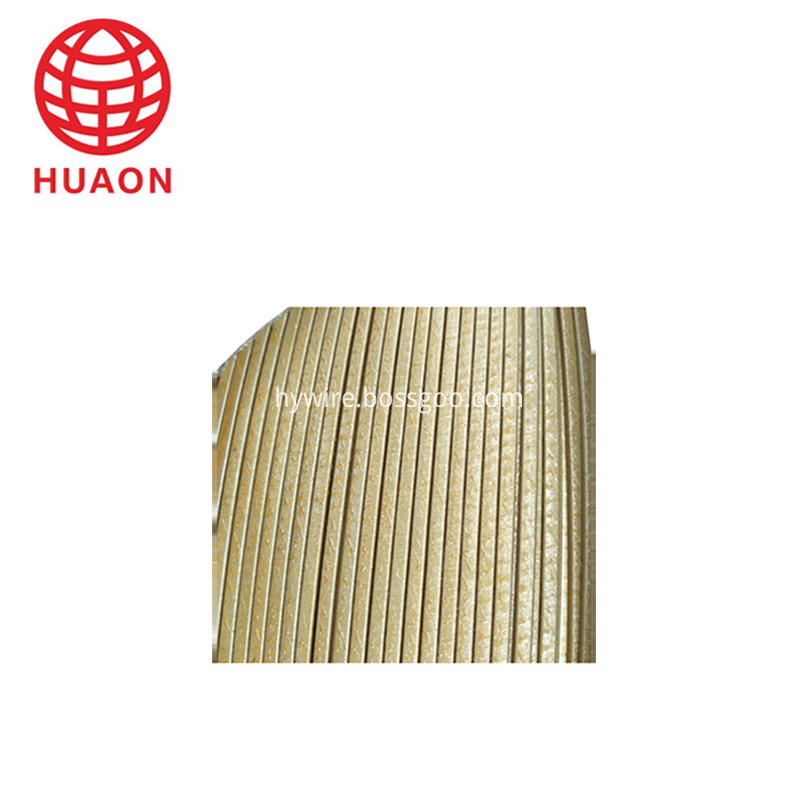 Film Covered Wire
Aluminium Wire,Film Covered Wire,Polyimide Film Covered Copper Wire,Film Covered Flat Wire
HENAN HUAYANG ELECTRICAL TECHNOLOGY GROUP CO.,LTD , https://www.huaonwire.com