[Source: "High-tech LED" magazine December issue (total 60th issue) Wen|High-tech LED Industry Research Institute (GLII)]
With the further improvement of LED and drive power technology, the heat dissipation and light decay of LED outdoor functional lighting Problems such as power supply have been further resolved. At the same time, the rapid decline in prices has also improved the cost performance of LED outdoor functional lighting products. In 2014, the application of LED street lamps became more mature, and the demand for urban and rural areas increased rapidly.
In 2014, the LED street lamp projects in various regions of the country continued to be promoted, and the export demand continued to increase. The Chinese LED street lamp market continued to maintain its growth momentum throughout the year. However, due to the influence of the government's change and the base number, the growth rate slowed down.
GLII research understands that the current domestic LED street lights show different levels of promotion in different regions. The LED street lamp transformation process is uneven. The LED street lamp renovation in some areas tends to be saturated, while the LED street lamp renovation in other areas has just started. Different regions have different policies for the renovation of LED street lamps. However, in terms of overall performance, many regions have shown regional protection. That is, LED street lamps in the region have preferred local enterprises to participate in the renovation of LED street lamps.
Therefore, in 2014, with the reduction of LED street lighting in Guangdong, many enterprises in Guangdong failed to get out of the local market, and this year's business declined. More companies are beginning to deploy other domestic markets, mainly through the establishment of factories or offices in the field, but the status quo of China's LED street lamp market is still characterized by the fact that local-born local enterprises occupy the absolute dominant position in the local market.
GLII has conducted in-depth research and research on LED streetlights, and has selected the top 10 enterprises in China's LED streetlight industry in 2014 through the side-by-side investigation and verification of LED power companies. In addition to the following top 10 companies, GLII research shows that Shenzhen Bangbei, Dongguan Xinquan, Zhejiang Jingri, Zhongshan Hongbao and other enterprises in 2014, LED street lights shipments are also larger.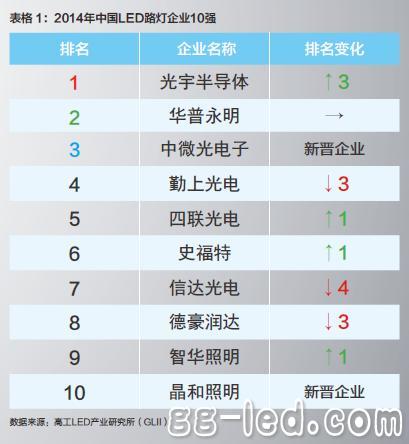 Data range description:


Enterprise scope: LED street lamp manufacturer in mainland China.
Data range: The shipments and sales of LED street lamps of various enterprises were selected as evaluation criteria in January-October 2014. The sales of street lamps refer to the sales ranking of street lamps themselves. According to the company's comprehensive strength, regional influence, development potential and combined with the 2014 streetlight shipments comprehensive ranking.
Remarks: Some companies do not want to disclose sales data or are unwilling to enter the rankings. This ranking is not included in this ranking.
1. Guangyu Semiconductor
Shanxi Guangyu Semiconductor Lighting Co., Ltd. was established in 1988 with a registered capital of 58.82 million yuan. The products are mainly for outdoor lighting. The main products include LED street lights, tunnel lights and industrial and mining lamps. The company has a good foundation in lighting technology such as LED street lamps and tunnel lights. It has undertaken the national 863 major scientific and technological projects three times, and is the subject of the National Twelfth Five-Year Science and Technology Support Program.
GLII research shows that Shanxi Guangyu has a strong advantage in the northern LED streetlight market such as Shanxi, and is called the first brand in North China.
2, Maple Yongming
Hangzhou Maple Yongming Optoelectronics Co., Ltd. was established in 2011 with a registered capital of 25.51 million yuan, dedicated to the research and development and manufacture of outdoor high-power LED lighting products. The company is a professional LED street light ODM manufacturer in China. The current market is located in China and overseas. The overseas markets are mainly in Europe, America, Central Asia and West Asia.
The manufacturing center of Maple Yongming has a capacity of 10,000 modules per day, 3000 lamps, and an annual output of over 1 million high-power LED lamps. In the industrial chain, the company is a major customer of Philips-Lumileds outdoor chip product line and Infineon power supply.
GLII research shows that the domestic market of Maple Yongming is mainly in East China, Northeast China and Southwest China. In 2014, shipments of Maple Yongming Street Lamps increased by 30% year-on-year, of which exports accounted for about 50%.
3. Medium-light optoelectronics
Zhongweiguang Electronics (Weifang) Co., Ltd. was established in November 2004 with a registered capital of 12 million US dollars. The company has a semiconductor optoelectronics laboratory and three production plants for the development and production of semiconductor luminescent materials, LED chips, LED lighting sources and lamps. The company's business focuses on LED outdoor lighting, indoor commercial lighting and home lighting.
The sales mode of China Micro-Optical Electronics mainly adopts the mode of management and sales of the holding company of the head office. At present, it has set up branch offices in nearly 20 cities in China, such as Hangzhou, Changzhou, Background and Harbin. At the same time, in order to help overseas sales, the company also set up branches in Japan, France, Malaysia, Thailand, the Philippines and other countries.
According to GLII research, the company's LED street light shipments have grown rapidly. Its main markets are concentrated in Jiangsu, Zhejiang, Shandong, Heilongjiang and other places. The company's exports account for about 20%.
4, Qin Shangguang
Founded in 1993, Dongguan Qinshang Optoelectronics Co., Ltd. (002638.SZ) is mainly engaged in LED outdoor lighting, LED indoor lighting, LED landscape lighting, LED rail transit lighting, LED medical lighting and so on.
Diligent lighting circuit lights mainly include Apollo street lamps, simple solar street lamps, Cupid series street lamps and other street lighting products. Apollo series street lamps are the main products of Qinshang Optoelectronics. In recent years, Qinshang Optoelectronics has a series of successful road lighting projects, such as Shenzhen 120km highway LED streetlight and tunnel lighting project, Beijing Green Olympic Road Lighting Project, Shanghai F1 Circuit Lighting Project, Guangdong Science Center Plaza and surrounding areas. Road lighting project, road lighting project of Olympic venues in Tsinghua University, and comprehensive renovation of street lamps in urban areas and towns such as Zhongshan and Dongguan.
According to GLII survey statistics, Qinshang Optoelectronics is the largest exporter of LED street lamps in China. In 2014, the export scale of street lamps was about 100 million yuan. The company's LED street lamp export market is dominated by Chile, Colombia, and El Salvador. The domestic market is dominated by South China and East China.
5, Silian Photoelectric
Chongqing Silian Optoelectronics Technology Co., Ltd. was established in July 2008 and is a subsidiary of China Silian Instrument and Meter Group. The company's main business is sapphire and its wafers, LED packaging devices and LED lighting products. LED lighting products mainly include LED street lights, LED fluorescent lights, LED rail traffic signal warning lights, LED explosion-proof lights, LED industrial and mining lights.
GLII research shows that Silian Optoelectronics has an absolute advantage in the streetlight market in the Southwest and Northwest.
6, Shifu
Jiangsu Shifu Photoelectric Co., Ltd. was established in 1994. The company started with traditional commercial lighting. In 2007, it began to transform from traditional lighting to LED lighting. The company's lighting products cover LED light sources, LED outdoor and indoor lighting.
According to GLII research, the company's solar LED street lamps and rural street lamps have a large shipment volume, and the domestic market is mainly distributed in the northern markets such as the northwest and north China.
7, Cinda Optoelectronics
Xiamen Xinda Optoelectronics Technology Co., Ltd. was established in 2007 with a registered capital of 200 million yuan. It is a holding subsidiary of the listed company Xiamen Xinda Co., Ltd. The company's main products include packaging and LED street lights, tunnel lights and other applications. LED street lights mainly include modular LED street lights and smart, dynamic and beetle series LED street lights. The company is a leading enterprise in Fujian LED street light technology and scale.
GLII research shows that Cinda Optoelectronics has a high market position in the East China market, especially in Fujian and surrounding areas.
8, Dehao Runda
Guangdong Dehao Runda Electric Co., Ltd. (002005.SZ) was founded in Zhuhai in May 1996. Its main products are small household appliances and LED series products. In March 2009, the company entered the LED industry by acquiring the LED assets of Guangdong Key Lunda. Through several years of development, the company has completed a nationwide industrial layout in Yangzhou, Wuhu, Dalian and Anhui, forming an integrated industrial structure with upstream epitaxial wafers, chips, midstream packaging, downstream lighting, display, backlight and other applications.
According to GLII research, the company's LED street light business is mainly located in China, with the South China market as the mainstay.
9, Zhihua Lighting
Founded in 2011, Shenzhen Zhihua Lighting Technology Co., Ltd. is a high-tech enterprise specializing in the design, development, manufacturing, sales, installation and lighting management system maintenance of LED lamps. The products include LED outdoor lighting, LED indoor lighting and related specialties. Lighting, in which outdoor lighting is mainly based on LED street lights and LED tunnel lights.
GLII research shows that Zhihua lighting products are exported to ASEAN, the Middle East, the European Union and other countries, and the domestic market is dominated by South China.
10, crystal and lighting
China Energy Saving Crystal & Lighting Co., Ltd. is a holding company of China Energy Conservation and Environmental Protection Group, and is the leading LED energy-saving lighting integrated operator in China. The company is the undertaker of the National and Local Joint Engineering Research Center for Solid State Light Sources approved by the National Development and Reform Commission. It is one of the participating units of the National Silicon-based Semiconductor Lighting Engineering Technology Research Center approved by the Ministry of Science and Technology. It is also the center of semiconductor lighting application and inspection engineering in Jiangxi Province. Bear the unit.
Crystal and lighting LED street lights have urban road lights and solar street lights, and the product power is fully covered from 20W to 400W.
According to the GLII survey, the main domestic market for Jinghe Lighting is the Central China region, which is dominated by Jiangxi. In addition, the company has some markets in South China and Southwest China.

Single Burner Electric Hotplate
Portable Hot Plate,Single Burner Electric Hotplate,Hot Plates,Hot Plates With Stainless Housing
Shaoxing Haoda Electrical Appliance Co.,Ltd , https://www.hotplates.nl