Usage:
Power Transformer, Distribution Transformer
Frequency Characteristics:
Power Frequency
Executed Standards:
Iec60076
Rate L. V:
0.4kv or Customized
Capacity:
10~4000kVA or Customized
Rate H. V:
10kv or Customized
Impedance:
6.5~4% or Customized
Transport Package:
Wooden Crate
SCE offers three phases, oil immersed, and naturally cooled (ONAN) distribution transformers. SCE manufacture these transformers under a licensing agreement with IEC 60076. The standard manufacturing range is from 10 kVA to 20000 kVA with a maximum voltage of 35kV.
Core
The core is manufactured from cold-rolled grain oriented (CRGO) silicon steel. The silicon steel is either conventional or laser treated and the choice depends on the desired loss level. The steel sheets are cut into required dimensions on automated machines thereby ensuring reduced air gap, low exciting current and low noise. Each lamination is insulated from each other to ensure a long trouble-free lifetime of the core. Suitably designed core clamping system ensures vibration free operation.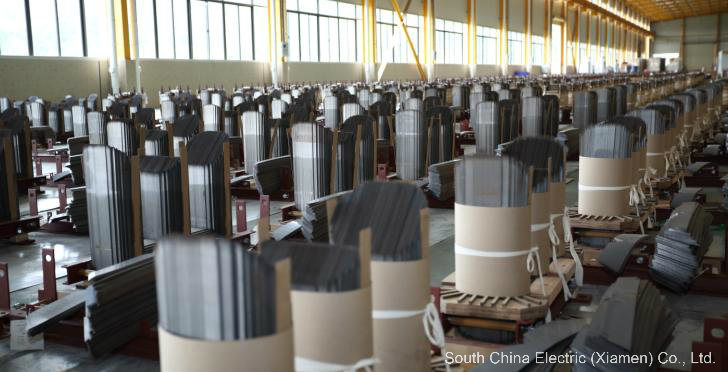 Windings
The windings are made of high-grade electrolytic cooper and are concentrically positioned. Usually copper foil is used for the low voltage windings. Round shaped, enamel insulated wire is used for the high voltage windings. It is exclusively of layered construction and is wound directly onto the low voltage winding, giving a maximum mechanical strength, rigidity and compactness.
Tap changer
The tap changer is fixed on the high voltage winding for voltage regulation.
Off-load tap changer.
It is basically a 3, 5 positions switch, which helps to adjust the voltage at a desired level. The tap changer handle is either on the top cover or sidewall and acts directly on the switching mechanism. As the name indicates, the off-load tap changer must only be operated when the transformer is de-energized.
On-load tap changer.
For higher ratings power transformer, it is basically 7, 9, 11, 17 positions switch which can be operated with energized. Brand of MR, ABB or Huaming are our options for on-load tap changer.
Tank
The tank is of hermetically sealed design and is made from corrugated steel sheets. This type of construction allows a degree of flexibility that is needed to accommodate the expansion and contraction of oil due to varying service conditions. The tank cover is bolted to the body of the tank. The surface is shot blasted first to eliminate all signs of rust, welding spatters, greese, oil and mill scale to achieve a good abrasive surface for the paint to hold for a long period of time. The two coats of primer paint are applied followed by one coat of standard "Cement Gray" (RAL 7033). (Colour Code can be customized)
Bushings
Several types can be provided depending on the requirement and applications. Porcelain bushings are used on the HV side as a norm while on the LV side porcelain or polyamide bushings are provided. 
Other designs are also available on request.
Regular Accessories
The regular accessories would include:
Oil conservator(available on request, usually used for ratings above 2000kVA)
Temperature indicator
Pressure release valve
Oil level indicator
Oil drain valve
Oil sample valve
Earthing device
Lifting lug
Cable box (available on request)
Tests
All the manufactured units undergo the following tests in the factory as described in IEC-60076.
Transformer ratio and connection
Measurement of load losses and short circuit impedance.

Measurement of no-load losses.

Separate source withstand voltage test

Induced over-voltage test

On-load tap changer test (only for on-load power transformer)

Transformer oil test

Sealing test of tank

Temperature rise test

Lighting impulse withstand voltage test

Measurement of partial discharg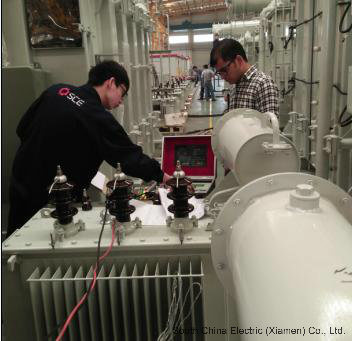 S11 Series Main Performance Parameters of Transformers

Rated capacity
(KVA)

Voltage combination(KV)

Vector group

No-load losses(W)

Load losses(W)

Short-circuit impedance
(%)

No- load current (%)

 
 

Track gauge (mm)

Weight

Dimension

(kg)

(mm)

HV

Tapping range

LV

 
 

Oil

Total

L

W

H

30

 
 
 
 

100

630/600

4

1.1

60

275

745

490

840

400×400

50

 
 
 
 

130

910/870

1

95

405

845

555

930

80

 
 
 
 

180

1310/1250

1

100

495

1005

635

1115

100

 
 
 
 

200

1580/1500

0.9

115

575

1020

725

1225

125

 
 
 
 

240

1890/1800

0.9

130

630

1175

770

1190

550×550

160

 
 
 
 

280

2310/2200

0.9

145

710

1210

840

1215

200

11

 
 
 

340

2730/2600

0.8

130

760

1270

890

975

250

10.5

±5

 

Dyn11

400

3200/3050

0.7

155

880

1365

945

1030

315

10

or

0.4

or

480

3830/3650

0.7

170

1030

1380

955

1085

400

6.3

±2×2.5

 

Yyn0

570

4520/4300

0.6

160

1195

1490

1055

1120

500

6

 
 
 

680

5410/5150

0.6

210

1380

1590

1110

1170

660×660

630

 
 
 
 

810

6200

4.5

0.5

265

1740

1650

1135

1235

820×820

800

 
 
 
 

980

7500

0.4

340

2065

1600

1100

1295

1000

 
 
 
 

1150

10300

0.4

375

2370

1700

1180

1355

1250

 
 
 
 

1360

12000

0.3

490

2850

1750

1225

1445

1600

 
 
 
 

1640

14500

0.25

610

3650

1840

1260

1575

2000

 
 
 
 

1940

18300

6

0.25

730

4200

1920

1400

1900

2500

 
 
 
 

2290

21200

0.2

810

4950

2100

1560

2050

3150

 
 
 
 

2750

25400

0.2

910

5650

2320

1800

2230

1070×1070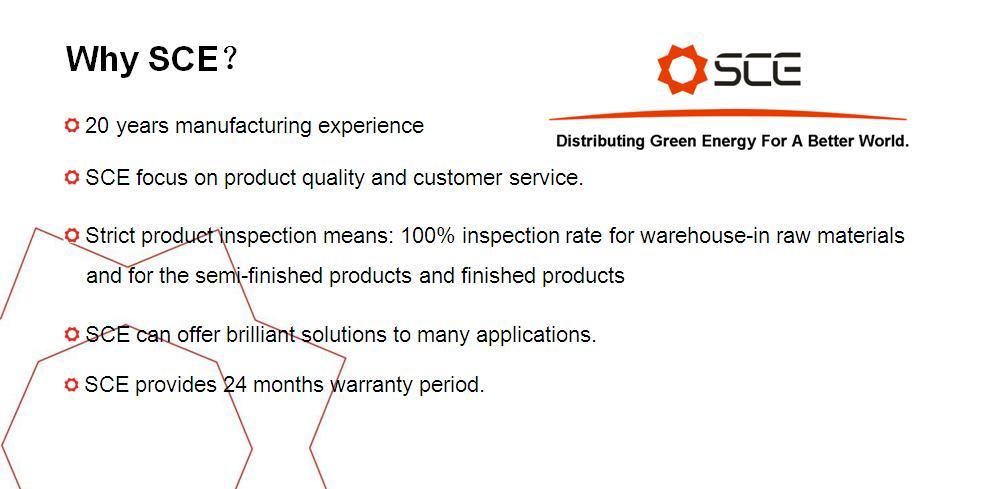 Usb Flash Drive,Metal Usb Flash Drive,Car Sahpe Usb Pen Drive
USB Flash Drive,Metal USB Flash Drive Co., Ltd. , http://www.gdusbdrive.com